28-07-2008
Feels like it's been a very long time since my last post on Ba Gua Bros. Obviously, my unforgettable summer in Shen Qiu together with Travis & Jakob was happening already a year ago. Times flying fast and things change as fast. Back to October 2007 and while Travis was about to head North to Beijing after his trip to Hong Kong, I was wandering around China as well. First in Xi'an (last city before the great West), I was hoping that I could get into Tibet, but my hope got cruelly crushed by the government that didn't allow me to do so since I hadn't a tourist visa but a student resident permit. Then I had to reach the South as well, I went to Guangzhou for a few days and then was supposed to go to HK too. By chance, so to say, it's in Macau that I ended up, where I found out what would come after that Ba Gua summer. Effortless, I was to find a job down here in Macau and therefore to cash in a little after almost one and a half year of training. I just had the time to get back to Zhengzhou as to pack up seriously and see off my brothers Travis and Dmitry (Americano-Russian KF bro from Xiao Long still living and working in Zhengzhou). It was quite something to virtually say good bye, to them of course who had been so important for one year, and to that life as well, knowing that I would henceforth return to a more conventional lifestyle with a 9/18 job. Cause although it was in Macau, that's what I was heading for, working along office hours as a project assistant in a decoration works company. Of course, it was exiting as every major change in a life could be, all the more because I was about to learn again about something I didn't know anything. However, I knew it wouldn't be comparable in terms of intensity with the page I was turning.
By middle of November, I had moved in a nice apartment in Taipa Island / Macau
with all comfort… even a fridge!!! Man oh man I know it doesn't sounds extraordinary and yet for me it was somewhat magic. Even better… after having hand-laundered my cloths for one and a half year, I was to have a laundry machine… I think I shed a tear for that one!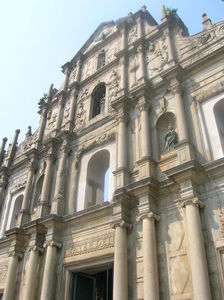 I also had begun to work and I was to observe that it wasn't easy for me to use my mind that much again. Not that I had become a total retarded, but I give you that, my mind wasn't as optimal as before when it came to stay focus eight or nine hours a day. The fact that I shifted from training physically all day long to sitting down all day long at my desk didn't make things easier either. I could feel that my body needed to move as it was used to do and since it couldn't my concentration was sometimes dramatically hindered while I'd get rather impatient. As usual, it's all a matter of adaptation. After my first week in China
back in September 2006, I almost couldn't walk no more because of the muscle pain, especially due to excessive stretching, that was absolutely unbearable. Thus after a couple of months in Macau, working as a "clerk" I got myself adapted to that new lifestyle and my ability to focus became quite decent again as much as my flexibility, muscle mass and stamina had reduced drastically. Not to mention that the loss part was not to please me at all. To be honest, I didn't train anymore for long months. Then, feeling sad about it, it took me a while to kinda cheer up myself and establish new objectives of training, goals that were to be more realistic with both the little time I have after work and my old injuries. (cause one major reason that brought me to stop training in China was injuries that didn't let me train properly any more). To get back to some practice also required Travis to come over for two weeks as to get a new visa, but mainly for me as to boost my motivation.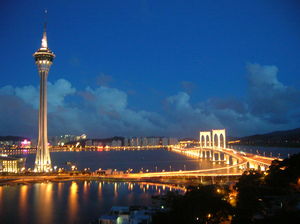 By now, I practice a bit again, one to two hours a day. However I think I've given up my idea of having a great kung fu. Now, what I keep in mind all the same is that I gained interest in kung fu after a few years of practice of Hatha Yoga. What I can find in both practices and that has always attracted me is the control of oneself, specially of the mind.
Having that control doesn't require the most prodigious kung fu, but to do what I can do as good as I can and to feel satisfied with it. It took me a while to remember that, years of struggles with myself, mind and body, especially body. I've been trying to push it further and further not taking consideration of the injuries. It has been good in a way since I developed deeper skills and abilities, but it has driven me to where I was in last October, unable to move my left arm without feeling the sharpest pain in my shoulder.
Basically it's all about being healthy, satisfied, happy and in peace (inner-peace). However, I came to learn that the rush for more, greed so to say, ain't only an issue for business people. All along my martial-arts experience in Switzerland, Thailand and China, I met people of great humility and it's the way I started too in 2003, simply happy to be able to use and move efficiently this body lent to me for the short time of a human life (this ability to move comfortably not being given to everyone is even supposed to be all the more finely appreciated by the ones that are granted with it). I also met other people much less humble if not totally up their ass. Those would be more "successful" but wouldn't seem to be the most peaceful. That's the road I ended up riding on. But now I remember, I remember what really matters to me…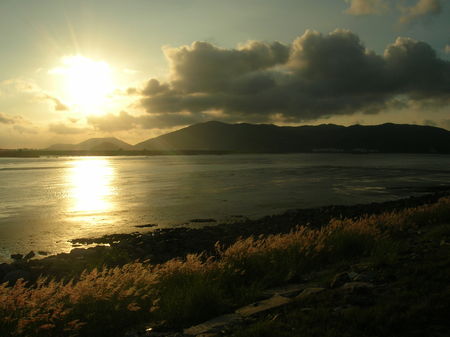 Peace to everyone!
Commentaires sur Shen Qiu - Macau or a year later