01-11-2007
Once again it would seem that I've neglected our blog and you, the ever faithful reader. That is if there is anyone left out there? I believe that when I left you last time I was in Zhengzhou, fresh out of Hong Kong, trying to figure out my next move. As it would turn out I stayed in Zhengzhou for just a few days before getting a Hard Sleeper on the train to Beijing. Again I managed to sleep all the way through the journey and simply open my eyes in a new city. Back in Beijing.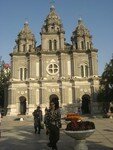 Beijing is where my trip to China started back in September 2006 and I was excited to be back. A part of traveling is the ability to return to a place completely detached from your everyday life and be able to find your way around. Spread all over the world there are cities and places that you know and upon return you naturally feel welcomed by the surroundings, though everything still feels new and interesting. It is like the Matrix. After being unplugged and hacking back in, it tries to tell you who are, feeding you input from its memory bank. And they are yours - only they don't really fit you anymore. After just a year a lot had changed in Beijing. New facades and subway lines and evermore rebuilding - everyone is getting ready for the Olympics in 2008. The familiar surroundings had a new face. And I had changed too. Compared to the wet-behind-the-ears traveler from 2006 this new Travis was able to get around on his own and speak Chinese well enough to make local friends. My first meal here ended in drinking beer with the cook at the restaurant. A huge change since I was first trying to get used to noodles and squatting toilets.
I decided to look for a different place to stay than last time, but my efforts only brought me to a completely deserted hostel; not a pleasant situation when you're traveling alone, I feel. Thus, I found my way back to the New Dragon Hotel in Dongcheng. It's situated in a nice little hutong area, lots of local shops and houses, small restaurants and good ambiance but still with a decent supermarket only 10 min. walk away. Best feature is the 5-10 min walk to the subway station. An easy and cheap way to get around Beijing. 2 yuan to enter the web of subway lines that will take you everywhere or at least in the vicinity of anywhere you wish to go.
Then to approach the task of finding a job here. China is jam packed with teaching opportunities and basically any line of work available to a foreigner (who doesn't speak fluent Chinese) involves use of high level English. I'm happy I have that covered. Daily I look through the classifieds, applying for anything from bartending and modeling to manager and journalist positions. I have a wide span :) I've been through a few interviews by now, but so far I've tried to stay clear of teaching jobs. Simply from a lack of motivation and interest. There's a lot of waiting involved when you go look for work, something I didn't really account for when I packed for Beijing. I came here to attend a job interview about a manager position in an Art Gallery, thinking that a yes or no would be produced after a week. That didn't go as planned. Waiting more than two weeks for second interviews and return phone calls have kept me here way longer than first expected. The gallery thing didn't work out by the way... fuckers haven't even called me back to say no. So don't buy anything from ArtsceneBeijing. They SUCK!
At least I didn't sit on my hands while waiting for that dud and so I was lucky enough to find my way to another opportunity. Through an agency I've found myself a nice job here in Beijing. I haven't signed any working contract yet so I guess nothing is for sure but the first interview went fine and all the paperwork should be taken care over the weekend or beginning of next week. If there are any more delays or fucking about though, I'm sure I'll lose it and go nuts.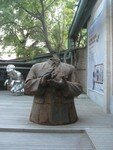 Other than surfing through classifieds and getting bitter I've spent my time practicing Chinese and drawing. Hopefully I'll get work and apartment in order and have the time and space to start making some paintings again. Beijing is a nice place for an art hungry traveler and though ArtsceneBeijing SUCK the area where they are situated, DaShanZi 798 is a cool area full of galleries, exhibitions, bookstores and so on. Of course I've been out having some fun as well. All work and no fun makes Jack a dull boy, and so I made sure to sample a little nightlife in Beijing. I met up with Michel from Switzerland, who also practices Ba Gua Zhang and had beers and a chat. In the wake of that I met a club owner from Sweden and an opportunist from Norway. Scandinavia seems to well represented in Beijing. If you're in Beijing and you dig electronic music, find your way to the White Rabbit in Lucky Street (Hao Yun Jie).
Weather in Beijing is getting colder, winter is coming closer and I've managed to catch a cold by now. Note to self: wear more clothes. All and all Beijing so far proved to be a colder version of Hong Kong. Consider: staying longer than expected, meeting many nice people, training kung fu, a little sightseeing and a lot of walking, nightlife and good food - about the same ingredients that kept me going in Hong Kong.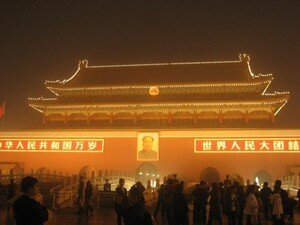 Beijing, this could be the beginning of a beautiful friendship.
All the best to everyone.
p.s. ArtsceneBeijing SUCK!
Commentaires sur HK ---> Beijing