28-07-2008
Feels like it's been a very long time since my last post on Ba Gua Bros. Obviously, my unforgettable summer in Shen Qiu together with Travis & Jakob was happening already a year ago. Times flying fast and things change as fast. Back to October 2007 and while Travis was about to head North to Beijing after his trip to Hong Kong, I was wandering around China as well. First in Xi'an (last city before the great West), I was hoping that I could get into Tibet, but my hope got cruelly crushed by the government that didn't allow me to do so since I hadn't a tourist visa but a student resident permit. Then I had to reach the South as well, I went to Guangzhou for a few days and then was supposed to go to HK too. By chance, so to say, it's in Macau that I ended up, where I found out what would come after that Ba Gua summer. Effortless, I was to find a job down here in Macau and therefore to cash in a little after almost one and a half year of training. I just had the time to get back to Zhengzhou as to pack up seriously and see off my brothers Travis and Dmitry (Americano-Russian KF bro from Xiao Long still living and working in Zhengzhou). It was quite something to virtually say good bye, to them of course who had been so important for one year, and to that life as well, knowing that I would henceforth return to a more conventional lifestyle with a 9/18 job. Cause although it was in Macau, that's what I was heading for, working along office hours as a project assistant in a decoration works company. Of course, it was exiting as every major change in a life could be, all the more because I was about to learn again about something I didn't know anything. However, I knew it wouldn't be comparable in terms of intensity with the page I was turning.
By middle of November, I had moved in a nice apartment in Taipa Island / Macau
with all comfort… even a fridge!!! Man oh man I know it doesn't sounds extraordinary and yet for me it was somewhat magic. Even better… after having hand-laundered my cloths for one and a half year, I was to have a laundry machine… I think I shed a tear for that one!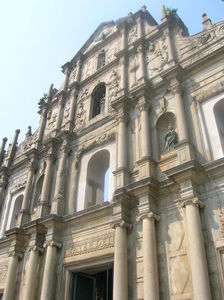 I also had begun to work and I was to observe that it wasn't easy for me to use my mind that much again. Not that I had become a total retarded, but I give you that, my mind wasn't as optimal as before when it came to stay focus eight or nine hours a day. The fact that I shifted from training physically all day long to sitting down all day long at my desk didn't make things easier either. I could feel that my body needed to move as it was used to do and since it couldn't my concentration was sometimes dramatically hindered while I'd get rather impatient. As usual, it's all a matter of adaptation. After my first week in China
back in September 2006, I almost couldn't walk no more because of the muscle pain, especially due to excessive stretching, that was absolutely unbearable. Thus after a couple of months in Macau, working as a "clerk" I got myself adapted to that new lifestyle and my ability to focus became quite decent again as much as my flexibility, muscle mass and stamina had reduced drastically. Not to mention that the loss part was not to please me at all. To be honest, I didn't train anymore for long months. Then, feeling sad about it, it took me a while to kinda cheer up myself and establish new objectives of training, goals that were to be more realistic with both the little time I have after work and my old injuries. (cause one major reason that brought me to stop training in China was injuries that didn't let me train properly any more). To get back to some practice also required Travis to come over for two weeks as to get a new visa, but mainly for me as to boost my motivation.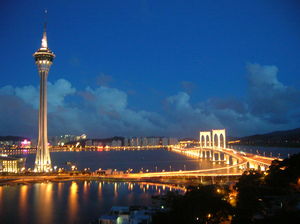 By now, I practice a bit again, one to two hours a day. However I think I've given up my idea of having a great kung fu. Now, what I keep in mind all the same is that I gained interest in kung fu after a few years of practice of Hatha Yoga. What I can find in both practices and that has always attracted me is the control of oneself, specially of the mind.
Having that control doesn't require the most prodigious kung fu, but to do what I can do as good as I can and to feel satisfied with it. It took me a while to remember that, years of struggles with myself, mind and body, especially body. I've been trying to push it further and further not taking consideration of the injuries. It has been good in a way since I developed deeper skills and abilities, but it has driven me to where I was in last October, unable to move my left arm without feeling the sharpest pain in my shoulder.
Basically it's all about being healthy, satisfied, happy and in peace (inner-peace). However, I came to learn that the rush for more, greed so to say, ain't only an issue for business people. All along my martial-arts experience in Switzerland, Thailand and China, I met people of great humility and it's the way I started too in 2003, simply happy to be able to use and move efficiently this body lent to me for the short time of a human life (this ability to move comfortably not being given to everyone is even supposed to be all the more finely appreciated by the ones that are granted with it). I also met other people much less humble if not totally up their ass. Those would be more "successful" but wouldn't seem to be the most peaceful. That's the road I ended up riding on. But now I remember, I remember what really matters to me…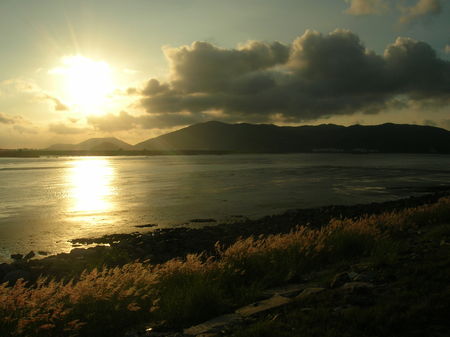 Peace to everyone!
03-02-2008
It seems time never stops flowing. And as it does things grow and change. A lot has happened at our old school DCMAS. The guys there are still working on setting up what they call the first Internal Boxing School in China. Apparantly they've moved from Li MingZhong former home, the old traditional buildings Jakob, Gwen and myself resided in during late summer 2007, and into the new larger campus. Along with that they've improved the looks and contents of the website greatly. A lot of new videos and old pictures have been uploaded making it work visiting for anyone interested in the internal martial arts such as Tai ji, XinYi and Bagua. Their introduction video, which you can also find on youtube.com (search word DCMAS), features some old and new footage of yours truly, the Ba Gua Bro's.
01-11-2007
Once again it would seem that I've neglected our blog and you, the ever faithful reader. That is if there is anyone left out there? I believe that when I left you last time I was in Zhengzhou, fresh out of Hong Kong, trying to figure out my next move. As it would turn out I stayed in Zhengzhou for just a few days before getting a Hard Sleeper on the train to Beijing. Again I managed to sleep all the way through the journey and simply open my eyes in a new city. Back in Beijing.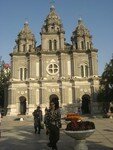 Beijing is where my trip to China started back in September 2006 and I was excited to be back. A part of traveling is the ability to return to a place completely detached from your everyday life and be able to find your way around. Spread all over the world there are cities and places that you know and upon return you naturally feel welcomed by the surroundings, though everything still feels new and interesting. It is like the Matrix. After being unplugged and hacking back in, it tries to tell you who are, feeding you input from its memory bank. And they are yours - only they don't really fit you anymore. After just a year a lot had changed in Beijing. New facades and subway lines and evermore rebuilding - everyone is getting ready for the Olympics in 2008. The familiar surroundings had a new face. And I had changed too. Compared to the wet-behind-the-ears traveler from 2006 this new Travis was able to get around on his own and speak Chinese well enough to make local friends. My first meal here ended in drinking beer with the cook at the restaurant. A huge change since I was first trying to get used to noodles and squatting toilets.
I decided to look for a different place to stay than last time, but my efforts only brought me to a completely deserted hostel; not a pleasant situation when you're traveling alone, I feel. Thus, I found my way back to the New Dragon Hotel in Dongcheng. It's situated in a nice little hutong area, lots of local shops and houses, small restaurants and good ambiance but still with a decent supermarket only 10 min. walk away. Best feature is the 5-10 min walk to the subway station. An easy and cheap way to get around Beijing. 2 yuan to enter the web of subway lines that will take you everywhere or at least in the vicinity of anywhere you wish to go.
Then to approach the task of finding a job here. China is jam packed with teaching opportunities and basically any line of work available to a foreigner (who doesn't speak fluent Chinese) involves use of high level English. I'm happy I have that covered. Daily I look through the classifieds, applying for anything from bartending and modeling to manager and journalist positions. I have a wide span :) I've been through a few interviews by now, but so far I've tried to stay clear of teaching jobs. Simply from a lack of motivation and interest. There's a lot of waiting involved when you go look for work, something I didn't really account for when I packed for Beijing. I came here to attend a job interview about a manager position in an Art Gallery, thinking that a yes or no would be produced after a week. That didn't go as planned. Waiting more than two weeks for second interviews and return phone calls have kept me here way longer than first expected. The gallery thing didn't work out by the way... fuckers haven't even called me back to say no. So don't buy anything from ArtsceneBeijing. They SUCK!
At least I didn't sit on my hands while waiting for that dud and so I was lucky enough to find my way to another opportunity. Through an agency I've found myself a nice job here in Beijing. I haven't signed any working contract yet so I guess nothing is for sure but the first interview went fine and all the paperwork should be taken care over the weekend or beginning of next week. If there are any more delays or fucking about though, I'm sure I'll lose it and go nuts.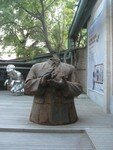 Other than surfing through classifieds and getting bitter I've spent my time practicing Chinese and drawing. Hopefully I'll get work and apartment in order and have the time and space to start making some paintings again. Beijing is a nice place for an art hungry traveler and though ArtsceneBeijing SUCK the area where they are situated, DaShanZi 798 is a cool area full of galleries, exhibitions, bookstores and so on. Of course I've been out having some fun as well. All work and no fun makes Jack a dull boy, and so I made sure to sample a little nightlife in Beijing. I met up with Michel from Switzerland, who also practices Ba Gua Zhang and had beers and a chat. In the wake of that I met a club owner from Sweden and an opportunist from Norway. Scandinavia seems to well represented in Beijing. If you're in Beijing and you dig electronic music, find your way to the White Rabbit in Lucky Street (Hao Yun Jie).
Weather in Beijing is getting colder, winter is coming closer and I've managed to catch a cold by now. Note to self: wear more clothes. All and all Beijing so far proved to be a colder version of Hong Kong. Consider: staying longer than expected, meeting many nice people, training kung fu, a little sightseeing and a lot of walking, nightlife and good food - about the same ingredients that kept me going in Hong Kong.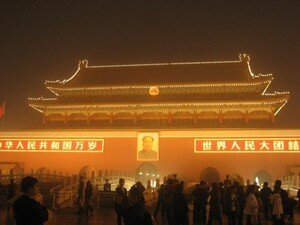 Beijing, this could be the beginning of a beautiful friendship.
All the best to everyone.
p.s. ArtsceneBeijing SUCK!
07-10-2007
So the DCMAS website finally has something worth directing attention to. But since everything is in Chinese I better give you some directions. Enter the site http://www.dcmas.com From here press the top picture in the left column (the one with a with a man in white facing the camera). Here you will find a big selection of videos. Some are videos of forms or sets, others show some applications. You'll find performances by Li Laoshi and there are some by Travis and Gwen and aswell. Enjoy.
As mentioned before Gwen and I the final foreign BaGua Brothers left at DCMAS had to leave. So where did the great flow take us after this. Well, first of all back to Zhengzhou and our little place on Songshan Lu. Sad to leave the school behind but happy to be 'home'. It's the second time I leave a kung fu school and even though this last stay was more free and with fewer obligations than before the feeling of newfound freedom was still there. There was no examination or graduation papers this time but other things told me that these three months had been "worth something".
First, our relationship with Li Laoshi greatly improved and in many ways I'm looking forward to my next stay with Li Laoshi. Some time in the beginning of our last month at DCMAS my Chinese had reached a level where understanding our teacher became possible. I was promptly announced "Translator and Understander of every Chinese Sentence and Word in The World". OK I wish, and far from it. But the abillity to communicate even on a basic level without translators brought us closer. We spent the last days at the school eating and drinking and having fun and on a more serious level we recorded all the stuff we had learned. Li Laoshi wanted us to have films and pictures of everything lest we forget what we did for the last three months. In many ways we'll probably be representatives of his teaching and he wants us to keep practicing. But I'm sure it was also meant as a service to us.
Our teacher came to Zhengzhou the following day after leaving and we met up in Bi Shang Gang Park. I finished the last form which I didn't have time to do in the school and we reviewed and practiced old and new. A long afternoon with more filming but symbolically it seemed perfect. Everything started and it finished there. Full circle.
The great flow or the power of bureaucracy, which ever way you wish you to view it, took me to Hong Kong after. I needed to renew my Chinese visa and furthermore, which I didn't realize, I also needed to travel. After one year in the same place only doing Kung Fu I felt like a newborn traveller. Great feeling. I was on my own since Gwen sat sails for Tibet. His visa had another month before being due.
Like most travellers on a budget I settled in the cheapest dorm I could find, in the world famous Chun King mansion. If you've been to HK you've most likely at least heard of this place. I spent a good 10 days in HK, more than expected but exactly what I needed. Roughly half the time I spent with newfound friends on Kowloon, peninsula, streetlevel using my feet, my wits and a map and the occasional help from a local to get around. The other half I spent on HK Island and one of the surrounding islands called Lamma. Here the second effect of training became apparent. My confidence was definitely greater than in earlier travels, though Im still a humble man, and I never felt scared or worried walking around in HK even at night time. I made sure to keep training even though this was my first holiday in a long time. No rest for masters in becoming.
HK is way more expensive than China and people seem more unattached - an effect of the constant wake of tourists and big city life I reckon. But just below the surface and all the bullshit, the big city glitter and fake politness people have hearts. Great big open warm hearts ready to welcome you and show around. They might still try to fuck you but if you let them know that this not accepted, with a firm but friendly tone, you can still make some friends and have a nice time there - even if you dont go to all the fancy clubs or Disneyland. Which I didn't, thank you very much. It can be hard to find places where small bills and coins are welcome but I can recommend 7-11Bar. Its open all night, beers are cheap but service is lacking. They don't kick you out for being drunk though, just tell you hurry up and stop bothering other customers. If not for an all nighter this place is wonderful for warm-up before hitting the clubs (which I didn't). Finding a visa proved to be a bit troublesome office hours, policy changes and Chinese holiday taken into consideration. But everything turned out right and I could go back to China with a new tourist visa.
Between the bedbugs in ChunKing Mansion, the extremely nice weather, drinking eating and enjoying, great people, Kung Fu on the rooftop, trips to Lamma and the beach, walks around HK Island and Kowloon and indian/pakistani food Hong Kong offered everything for a one-man traveller. Even on a budget. I had a great time and hope to go back some day.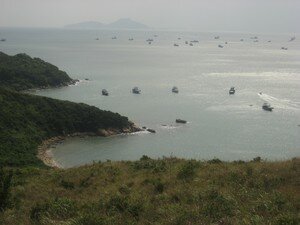 Now back in Zhengzhou I'm working on where to go. Hopefully I can find a way to prolong my stay in China. Next stop: job in China (?)
23-09-2007
That's it. The last two "laowai" (foreigner) bros had to leave DCMAS. As Jakob left already a month ago to go back to his motherland, it left just the two of us to represent the western world in the school and more generally in Shen Qiu. Time seemed to speed up a little during the last weeks and we started to realize that there were things we wouldn't have the time to learn, thus giving us extra reasons and motivation to come back sooner or later. Apparently the idea of coming back was a given for our teacher Laoshi Li who kept talking about what we'd learn next year 'till the very last moment. Of course, we both think about coming back, but as we've both been "travelling" (or rather studing abroad) for a good while now we also have to begin thinking of more down to earth realities - such as our budget.
These three months in Laoshi Li's school gave us a glimpse of what one can find in China when searching for traditional kung-fu. We're well-aware of the luck we've had to meet such a "master" as Li Shi Quan. It's not granted to anyone to find somebody like him in a country as big and populated as China. A cradle of many schools and kung-fu teachers, clouded by smoke and mirrors, especially if one doesn't really speak this crazy chinese language. Futhermore, we found out that for this kind of teacher here in China, the idea of teaching white boys isn't always easily accepted by the outside world.
Therefore, we're extremely thankful to Laoshi Li as he accepted the challenge of teaching laowais in a town and a culture where these skills are not necessarily given away to the first stranger. We understand that he most probably had to stand up for his opinions and for his will of teaching us and for that our respect is even deeper. We paid to learn from him (for a service so to say) and from a westerner's point of view it would only seem fair enough whoever we are. Money talks so to say. But one has to understand that things in China definitely doesn't work the same way as in Europe or America. It becomes even more complicated when it's about something that falls under chinese traditional "laws". It's hard to say but perhaps by teaching us Laoshi Li have been looked down upon in the Ba Gua (and Chinese traditional kung-fu) circle; on the other hand he may also have given himself a kind of charisma.
Our three months of summer training came to an end on the 20th of September and it was with a hint of melancholy that we had our last training, our last breakfast Shen Qiu style, our last walk around the small town and our last crazy traditional lunch well-watered with baijiu and all the "Shen Qiu VIP"-status that we have enjoyed all the time here. From now on, we both will have to find out what's going to be our own next move. We're back in Zhengzhou and we'll most probably take a little while thinking of new plans and hopefully keep training together a little back in Bi Shan Gang park where it all started.
22-09-2007
As Travis and I were about to leave the school, we went through all kinds of cleaning. I quickly found out, with bewildernment, how my kung-fu skills were useful when it came to playing around with brooms. Therefore, guys I'd advise you all to invest in a trip in China for your girl... pretending self-defense purposes, of course. lol
This is the second time I break one iron bar. Im still a bit surprised, as you can tell from the slight hesitation right after.
After a couple of one bar shot, Gwen tries to break two bars. This one video is the best performence he did as you can really see the broken bars flying away behind his back with great speed.
I didn't find breaking two iron bars as easy as just one. Took me a few attempts. My head was sore afterwards but I was happy once I made it happen. Its really a question of not backing down at that final moment just before impact. You have to show them who is boss so to say.